Join us


Wednesday, May 27, 7:00 p.m.



How does a Christian deal with being anxious

about the things going on today?


Pastor Dave will show you how God brought the

prophet Elijah through his time of anxiousness

and depression.
Watch May 24, 2020 sermon on
Facebook


Reminder:


Send your questions for Wednesday evenings to


Pastor Dave directly (pastordave@remnantlife.org)


or through the "contact" page on this site.

RLC Call to Fast and Pray


(Week 3)


Fast 3 meals during this final week


Total of 9 meals fasted


Pray during the time you are fasting that meal:


1. Pray for the death of the COVID-19 virus


2. Pray healing for the sick


3. Pray that any evil operating in the shadows against

this nation will be brought into the light


4. Pray for protection and boldness over all those who

are working for our good and the good of the country


5. Pray against the spirit of fear that will try and

prevent people from returning fully to their lives once

this is over.


Click here to download the May Calendar

to keep track of your fasting .pdf









Thank you to those who have sent their tithes

during this unusual time. There are two ways you can

do this: the first is to send a check, made out to

Remnant Life Church. The second is through PayPal.

Both the mailing address and PayPal link may be

found on the left-hand side of this page.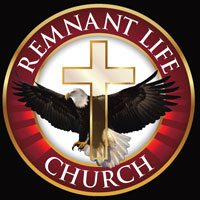 Welcome to Remnant Life!
We are a non-denominational gathering with one purpose – to glorify the name of Jesus Christ! We do this by worshiping God in song, learning from His Word while understanding how to use what we learn in our everyday lives and spending time in His presence in prayer. We are a church that believes prayer changes things!
Remnant Life welcomes everyone who desires to know God or know Him better. It does not matter where you have been, what you have done or how you feel about yourself. Jesus tells us in John 3:16 that whoever believes in Him will be saved. That means when we acknowledge our need for Him, and confess our sins, we are forgiven. We are all sinners saved by God's grace so you can come and visit or be a part of this church knowing you will not be judged but you will be loved as we all seek to have victory over sin and become more like Jesus.
So if you are looking for a new church home or would like to make
church a part of your life for the first time, we would love for you
to come visit us anytime. God bless you.